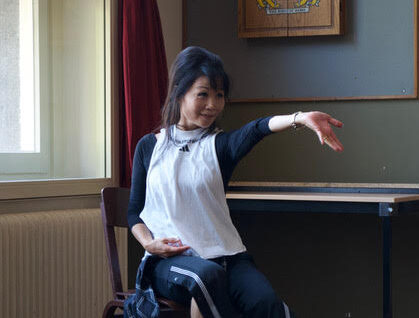 Sabine Smeets, M.A.
Maastricht, The Netherlands
In 2014, Sabine was introduced to her first dance class tailored for people with PD by Maïté Guérin
at the Opera in Liège, Belgium. It turned out to be the enticing spark to become a Dance for PD
teacher herself. She followed specific training with David Leventhal in the Netherlands and later
the Advanced Dance for PD Teachers' Training at the Mark Morris Dance Center in Brooklyn, NY
and in Amsterdam. She has been teaching for Kinesiphilia Belgium, Care to Dance, Stichting
Boschpoort, NOVIzorg and Parkinson Dansen Sittard-Westelijke Mijnstreek.
Her academic education (B.A. Hon., M.A. Queen's University, Canada) went parallel with her
dance training (Kingston School of Dance, Spindrift Dance Theater a.o.), subsequently full-time at
the "Amsterdamse Balletakademie" in Amsterdam.
Sabine has been an active dance lover ever since she was a little girl. She started teaching at
"UWC Lester B. Pearson College", Canada, as a dance activity leader at the age of 17 and
continued to teach in university at the "Queen's Jazz Dance Club". From there she has been a
dance instructor on and off. Her most valuable – in retrospect – yet most difficult life lessons were
not taught at any dance school nor at any of the many workshops she had attended. She endured
a severe injury which put an end to her professional dance career at an early stage. This physical
and mental setback nearly ended her passion for dance. Finally acceptance, "bypass routes" and
resilience enabled her to semi-professionally dance and perform again for many years.
She also found an additional passion in Taiji and Qikung. She is currently in the Dutch National
Taichi Team since the beginning of 2020. Some of her achievements are: silver medallist at the first
Online European Wushu Championship (May 2020), two-times golden medalist at the European
Wushu Championship in Greece (November 2022), three-times golden medalist at the Open
Dutch Wushu Championships (April 2023), two-times golden medalist at the Wushu Swiss Open
(June 2023).
Sabine's dance for PD classes reflect her dance experience and joy for dance combined with a
touch of the martial arts. She teaches weekly in Maastricht, regularly for Kinesiphilia Care to
Dance, Liège, Belgium and gives workshops on demand.
Sabine is the first Dance for PD Certified teacher in the Netherlands.