Bowen Award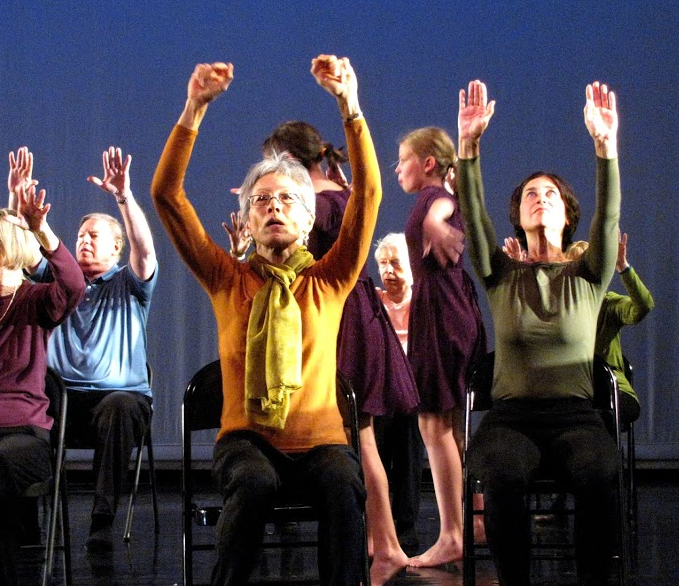 Supporting inclusive choreography for people with PD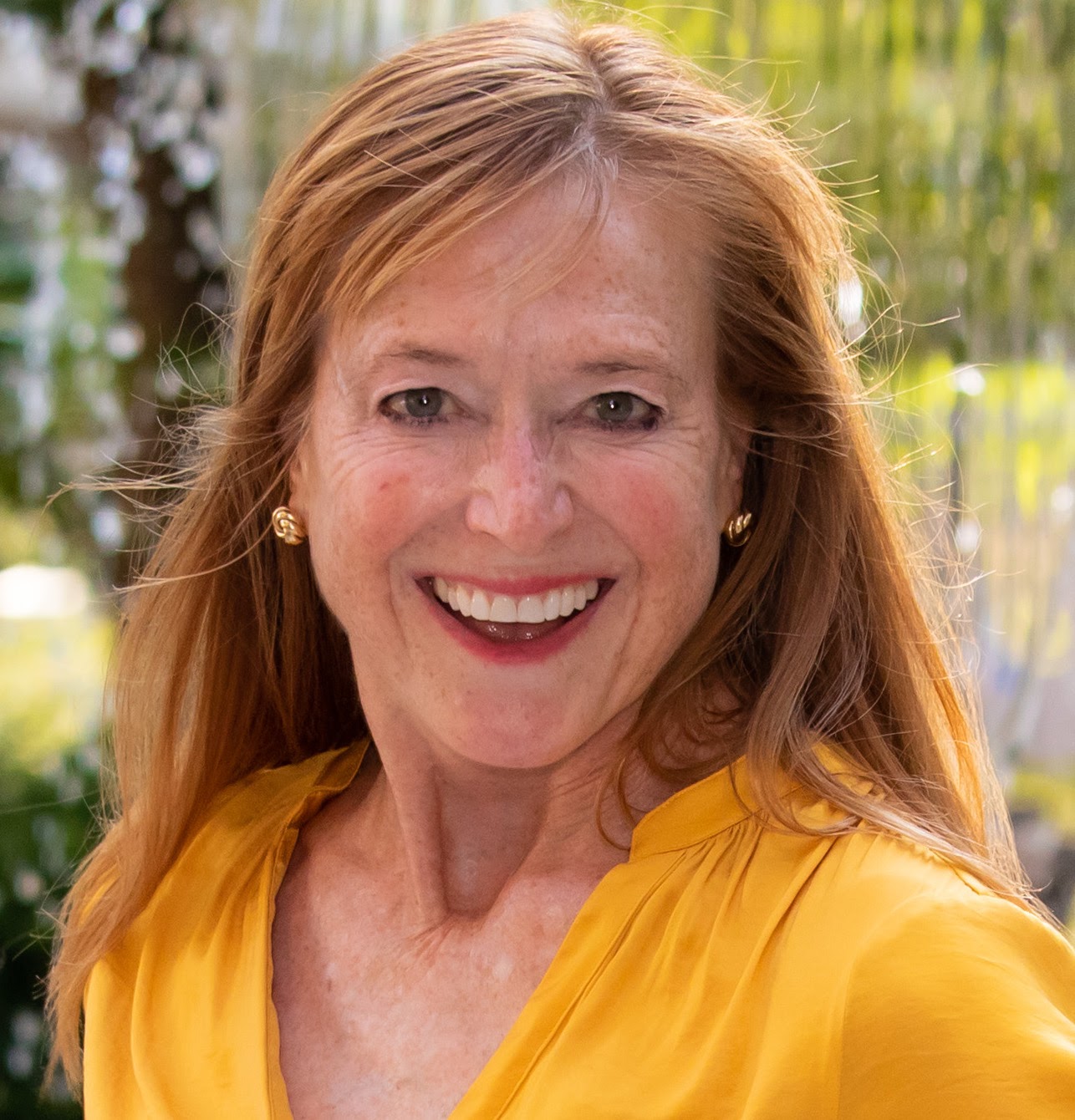 About the award
Dance for PD's annual Lucy Bowen Award for Inclusive Choreography offers up to $10,000 towards the creation and performance of an original work of choreography developed in collaboration with and publicly performed by people living with Parkinson's.
Apply today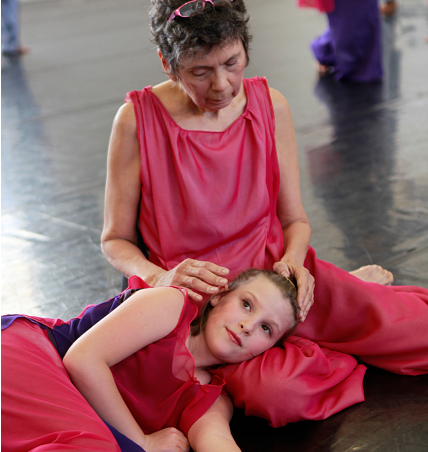 What's Inclusive Choreography?
In the context of this award, inclusive choreography refers to a process of dance-making that recognizes and celebrates the artistic potential inherent in each individual living with or without a disability. Inclusive choreography for people living with Parkinson's provides paths for each individual to contribute to and learn from the creative process, challenge and push through conceived boundaries, and amplify their expressive capacity.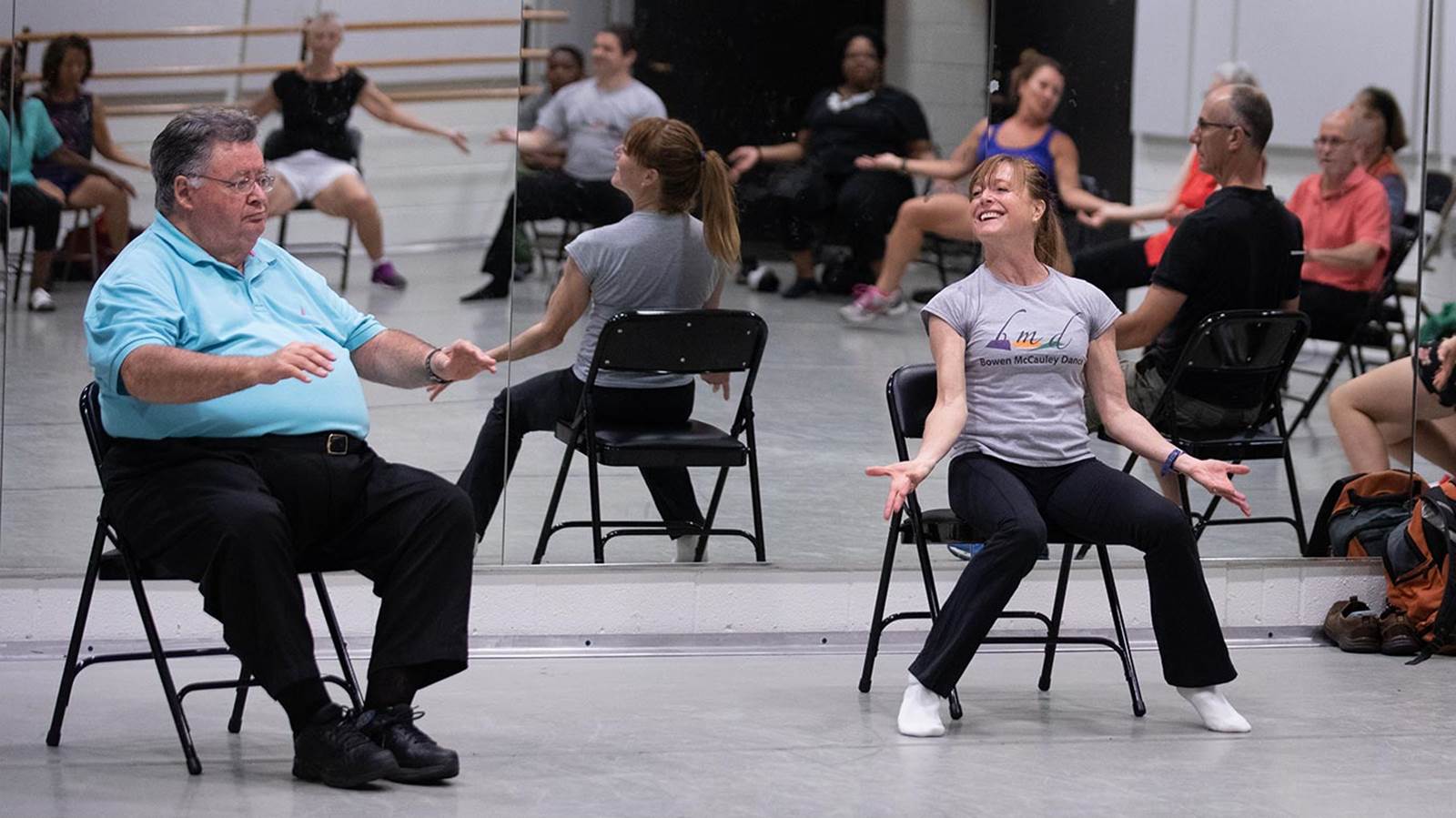 For whom is the award named?
The award honors the ongoing work of choreographer and Dance for PD teaching artist Lucy Bowen McCauley, whose artistic vision always placed community engagement front and center. As the Artistic Director of Bowen McCauley Dance for 25 years, Bowen McCauley created a vast repertoire of work, ranging from lyrical ballets to highly physical contemporary pieces set to rock music. This award is made possible by Lucy's generous financial support.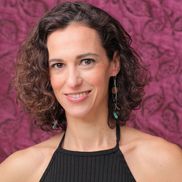 Valeria Solomonoff | 2021-22
NYC-based Argentinian choreographer, dancer, and teaching artist Valeria Solomonoff, an NYU Tisch Tango instructor and research associate at Harvard's Partnering Lab, uses her tango roots to reimagine new possibilities of partnering.
Learn more
Robin Dekkers | 2022-23
Robin Dekkers' winning proposal centers on the creation of a new dance film with participants in Berkeley Ballet Theater's Dance for PD® program in Berkeley, CA. Dekkers is the Artistic Director of Berkeley Ballet Theater and Post:ballet.
Learn more
Proposals may be submitted through the form linked below between May 15 and June 30, 2023.
Award applicants must be (or represent) emerging or established choreographers whose body of work reflects quality, craft, creativity, and innovation and who are proposing a collaborative partnership with a specific, established Dance for Parkinson's class community anywhere in the world. The culmination of this partnership shall be a live performance or film project featuring the choreographer's work performed by people living with Parkinson's.
The review committee welcomes choreography based on any and all dance genres and in any style.
Please review the award's terms and conditions:
I. Application
Applications may be completed by a choreographer, or by a program administrator applying on behalf of a choreographer who is interested in working with a specific program. Applications are due by June 30, 2022 and must be submitted through the form linked below. Neither emailed submissions nor late or incomplete applications will be accepted. For questions about the application process, please send an email to admin@danceforpd.org.
II. Selection process
The selection process comprises three stages:
1. A selection committee of teaching artists and choreographers will review and score applications on artistic merit.
2. The selection committee will present five finalists to Dance for PD administrative staff, which will then review applications for feasibility based on proposed budget, established production history, and organizational capacity.
3. The selection committee will then independently make a final decision based on the remaining pool of candidates. A single recipient for the 2023 season will be announced in October 2022.
III. Funding, eligible expenses and payment
Up to $10,000 USD will be awarded according to the terms below.
Allowable project expenses include:
-Choreographer and choreographic assistant fees
-Music licensing or composer fees
-Filmmaker and film crew (if project is film based)
-Space rental for the project
-Travel costs
-Theater rental
-Production costs (lighting design, stage manager)
-Costume design and production
-Fees for performers, including musicians
-Marketing for performance
-Videography
Award funding may not be used for:
-On-going Dance for Parkinson's class teachers or studio rental
-On-going Dance for Parkinson's teaching artist fees
-Scientific research
-Fees for choreographers not listed on original application
The payment process for award recipients/receiving organizations is as follows:
1. The award recipient/organization submits a detailed budget for projected expenses, as well as other sources of support if available, related to the project stated in the application. Total expenses minus other sources of support may add up to but not exceed $10,000 USD; this net amount is referred to as the Award Budget. For example:
Total project expenses: $14,500
Other sources of support (donations, ticket sales): $5,000
Award Budget requested: $9,500
2. Once received, an initial advance equal to 50% of the Award Budget will be disbursed.
3. Once the project is complete, and a public performance, screening or showing of the project has taken place, the award recipient/organization will submit the following:
– A full video of the choreographed dance with evidence of an audience in attendance
– A printed program describing the performance event
– A brief written report (one page or less) that includes a description of the performance, the number of performers and number of audience members in attendance.
– If the project is film-based, the film itself must be submitted in addition to evidence (through number of views and a report of a public screening) that it has been shared publicly.
Once these presentation requirements have been satisfied, the final payment representing the remaining 50% of the Award Budget will be disbursed. Every effort will be made to process payments within 21 business days of required submissions.
IV. Timeline
It is expected that the entire project should be completed within 12 months of a choreographer receiving the award. However, we understand that unavoidable delays occur and that projects may require additional time. No-cost extensions of up to four months may be requested via email and may be granted on a case-by-case basis. Projects that are not completed and/or do not result in some kind of public performance/screening will be asked to return all expenses minus any hourly fees that have been paid to choreographers, choreographic assistants, composers/musicians, or members of the cast.
The production team, including the choreographer, will be asked to schedule a 30-minute mid-way check-in via Zoom with members of the Bowen Award selection committee and Dance for PD staff. This will be an opportunity for the award recipients to report on progress, ask questions, receive guidance as needed, and provide a real-time update on progress. We ask that you include an approximate date for this check-in on your application.
V. Marketing
All marketing and promotion related to the project, as well as any printed or online programs, must mention refer to the Award using the following language: "This project is made possible by the Lucy Bowen Award, which is administered by Mark Morris Dance Group's Dance for PD® program".
By completing the application process, you acknowledge that you have read and will abide by the terms above.
---
Apply for the Bowen Award
Applications will be accepted May 15-June 30, 2022.
Apply