Dance at home

Dance for PD is committed to supporting our global community and encouraging people living with Parkinson's to keep dancing during a time when in-studio classes may not be available.
Click on a button below to start dancing with us.
Check out these additional resources:

+ Dance by Phone – Free Dance for PD activities for people living without a computer, smartphone or internet access
+ Thanks to our supporters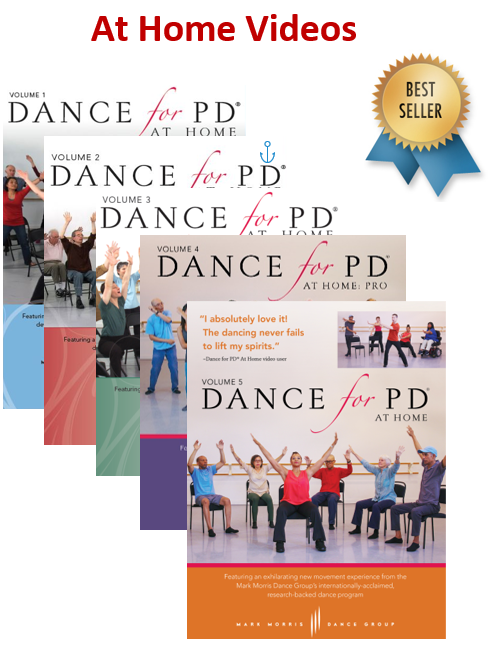 To supplement your movement program, please consider purchasing our best-selling At Home DVDs or Videos on Demand. All Video on Demand access is now 20% off, and we are waiving local and international shipping charges for all orders of our 4-DVD bundle. Your purchases help us sustain our work.

The video resources provided below are for general information purposes only and do not constitute medical advice and should not be used or relied upon for treatment of any medical condition or without guidance and approval from a qualified physician. You assume all risks of injury as a result of engaging in any dance activity. Mark Morris Dance Group and Dance for PD are not responsible for any injury sustained by you during the course of any dance activity.
---
Live classes and meetups
Click on each class button below at the scheduled time to join the class! All classes, except for special workshops like Tap, are offered FREE OF CHARGE. No experience required. All classes are listed in US Eastern Time.
Registration opens 15 minutes before the scheduled start time. For security purposes, all registrations must be processed through our website via the buttons below. Please do not attempt to join the class directly through the Zoom app; passwords will not be provided.
Enjoying our resources? Please consider supporting the Dance for PD program with a membership or charitable donation:

Click here to learn about Zoom and download the desktop client.

---
Miss a class? Want to do a class again? Dance for PD Members have special access to archived Dance for PD, Sing for PD, Pilates and Yoga classes originally offered on Zoom. Members can also request that specific Zoom classes be posted on the archive in case they miss a class or want to see it again. Not a member or need to renew? Click here to join today and receive special member access to all of our resources!
---
Selections from our pre-recorded and streamed class archive
How to find a video
In the large video frame below, use the scrolling options in the control box to browse the archive and select a video as shown in this diagram:
Diagram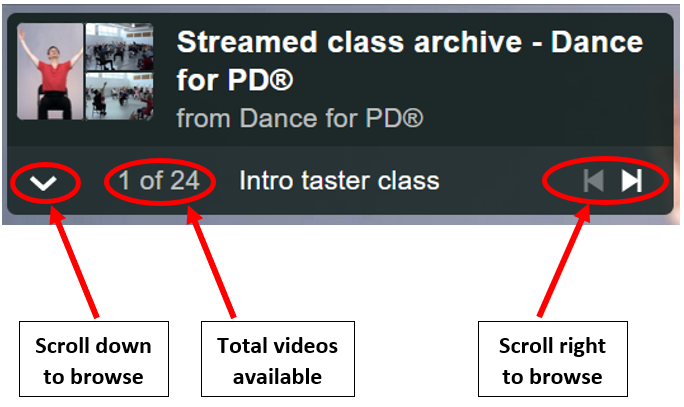 Video frame
Looking for more classes? Become a member and access our complete class archive containing more than 300 full classes available on demand, including recent Zoom classes with your favorite teachers. Click here to access this class with your member credentials. Or purchase one of our 5 acclaimed At Home Videos.
---
Excerpts from our At Home Videos
How to find a video
In the large video frame below, use the scrolling options in the control box to browse the archive of selections from our At Home instructional videos and select a video as shown in this diagram:
Diagram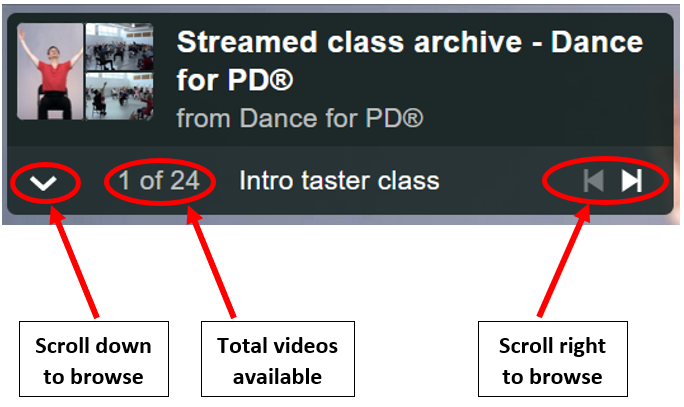 Video frame
Enjoying these excerpts? Please consider purchasing one of our acclaimed At Home videos (DVD or On Demand), which provide you with a high-quality movement experience while supporting Dance for PD's free programming. Additional excerpts and video resources are available to Dance for PD members. Join today!
---
Global affiliates
Dance for PD has partners and affiliates around the world. Many of our partners are creating their own online content.
Please use the scroll or search function to browse online offerings from our global affiliates.
For information about Dance for PD's own free online group classes via Zoom, click here.
NORTH AMERICA (scroll or use search feature)

---
EUROPE & AFRICA (scroll or use search feature)

---
AUSTRALIA
---
Other partners
Power for Parkinson's online exercise classes
Parkinson's Foundation PD Health @ Home series
---
Thanks to our supporters and partners
Dance for PD® is made possible through generous support from our community. We gratefully acknowledge contributions from individual Dance for PD members, donors, and Friends of MMDG along with public and private institutions:
Laurie M. Tisch Illumination Fund
A community grant from the Parkinson's Foundation
Billy Rose Foundation
Boston Scientific
Bossak/Heilbron Charitable Foundation
The Dillon Fund
General Catalyst
Sills Family Foundation
Lily Auchincloss Foundation
Stanley J. Wertheimer Fund
American Parkinson Disease Association
The Parkinson Council
New York Foundation for Eldercare
Parkinson's Concierge
Public support for Dance for PD is provided by New York City Council Member Helen Rosenthal, the New York City Department of Cultural Affairs in partnership with the City Council, and the New York State Council on the Arts with support of the Office of the Governor and the New York State Legislature.