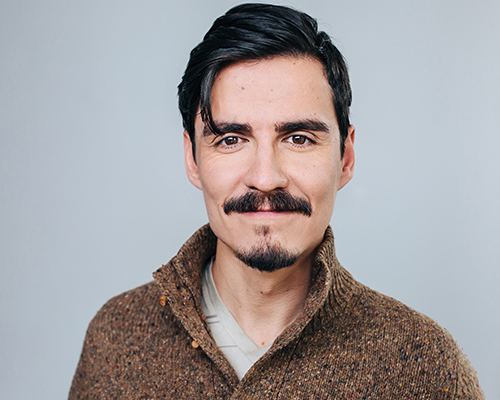 Michael Sazonov
Teaching artist
Michael Sazonov first fell in love with Dance for PD® while volunteering in the spring of 2014. Since then, he has trained and worked passionately to become a fully-fledged bilingual teaching artist, sharing his love of dance, singing, clown, theatre, and creative movement with participants around the world. Proud to share his half-Ecuadorian heritage teaching classes in Spanish, he was honored to join Maria Portman Kelly and Bethina Sayegh Flores in representing Dance for PD® at the first annual Hispanic Outreach Leadership Conference through the Muhammad Ali Parkinson Center at the Barrow Neurological Institute, a collaboration still enjoyed today, which shares Dance for PD® all over the Spanish-speaking world in real-time every week via Zoom.
Closer to home, through the New Jersey State Council on the Arts, Michael is a member of the inaugural Creative Aging Learning Laboratory cohort and Community of Practice. As a Creative Aging practitioner, he teaches at several senior-serving programs and arts institutions throughout New York and New Jersey. Michael also works with the Parkinson's community in New Jersey as a teaching artist with Dance for Parkinson's, through the American Repertory Ballet. An advocate of the empowering aspects of creativity and self-expression, Michael also works as a Trainer/Instructor with Broadway for Ataxia, Inc., an expressive arts-based intervention for those living with Ataxia (an idea born by Dr. Sheng-Han Kuo of Columbia University, Director for the Initiative for Columbia Ataxia and Tremor).
A first-generation American, and a proud alum of the New York Foundation for the Arts' Immigrant Artist Mentorship Program: Social Practice, Michael is also a theatre maker, producing work at Washington, D.C.'s Capital Fringe Festival, Dana Foundation's Brain Awareness Week, West Side Dance Project, and SharedSpace presented at the Mark Morris Dance Center.
As an avid lifelong learner, he continues his own training and professional development with Dance for PD®, the West Side Dance Project with Maria Zannieri and John DeBlass, Freestyle Love Supreme Academy, and the Pandemonium Studio with master clown teacher Chris Bayes. As a professional actor Michael has worked in New York, off-Broadway, and regionally in Washington, DC since joining the Actors Equity Association in 2004. Some of his favorite places to work include Playwrights Horizons, Ma-Yi Theater Company, Notch Theatre Co., the terra NOVA Collective, the Kennedy Center for the Performing Arts, and Round House Theatre.
A graduate of American University's School of International Service, Michael worked for the US Congress through the Government Reform Committee before pursuing artistic means of advocacy and more local service. He currently serves as a volunteer Member of the Lopatcong Municipal Planning Board, as well as the first Policy and Advocacy chair for the NYC Team Fox Young Professionals Executive Board, a fundraising and awareness-raising group dedicated to the cause of the Michael J. Fox Foundation for Parkinson's Research.
Michael believes that every artist has a responsibility as a citizen to practice art through the paradigms of education, beneficence, and justice. He believes in social practice, experiential learning, and radical kindness to get us closer to ourselves and each other. While his curiosity as a teaching artist and theatre maker thrives in conversation, collaborative fieldwork, source-material, and devised theatre work, his wonder lies in the creation of community and the power of creativity and joy.
Above all, his love for teaching is shaped by his spirited and holistic approach to the power of the imagination and creative expression.