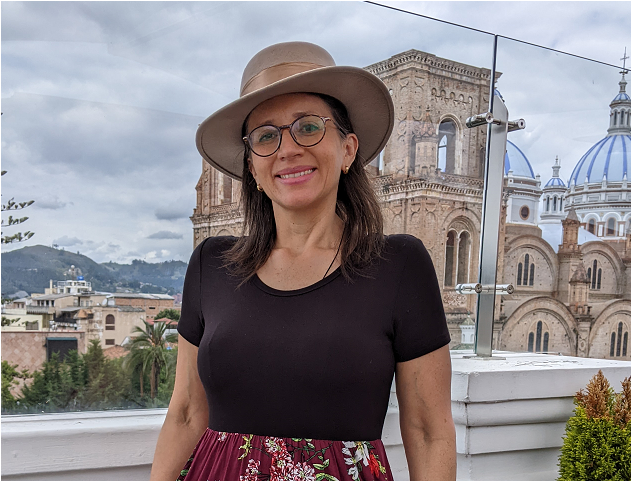 Maria-Mercedes Moreno Loor
Cuenca, Ecuador
Maria-Mercedes Moreno Loor was born in Quito/Ecuador where she studied an AA in graphic design. She earned an E-commerce Certificate in California and a BA in Multimedia Design from USFQ in Quito. She graduated as Biodanza Teacher at the SRT Biodanza Puembo-Quito School. As of 2023 she is a candidate to hold a Master in Neuropsychology at the University of Azuay in Cuenca with her thesis related to Dance for people with Parkinson's.
Formerly she has directed IT projects for the development of financial software, cultural projects in the field of art exhibitions, as well as book and eBook editorial design.
Her design for the book "De la cocina de… Manabí" won 1st prize inBest Book category at the 3rd Biennial of Graphic Design in Ecuador, and the books of her authorship: "La Danza de la Música para Abrazar la Vida" (The Dance of Music to Embrace life) and "Saranara, la mariposa sin talento" (Saranara, the untalented butterfly) in co-authorship with Marcela Lopez were Amazon bestsellers. She is part of "Emmuzikal" [California-USA] a project that aspires to explain – from the perspective of cognitive neuroscience – the contribution of music therapy in the integral health of human beings. She dreams of bridging science, art, and spirituality.