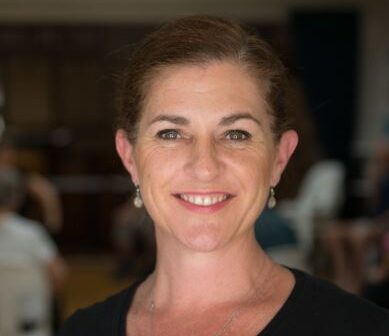 Julie Symmonds
Stirling, United Kingdom
Julie Symmonds is the first Dance for PD® Certified Teacher in Africa. She started ballet classes at the age of 5 years old, and continued dancing throughout her school career. Ballet was her first love and led to Julie completing the 3 year Diploma in Dance at the University of Cape Town, graduating with a first place in Teaching Methodology and Drama. Julie then travelled overseas, experiencing Europe, the UK and Ireland before beginning her teaching career in 1997.
In October of 2015, she attended the Introductory Teacher's Course at the Mark Morris Dance Center in New York as the first South African to complete this training, and she launched her first class at the Playhouse Theatre in Somerset West in 2016. Julie was honored by a Stanley J. Wertheimer Fellowship in the same year, allowing her to continue her training process. In 2017, Carmen Davidson joined Julie and together they launched the company Dance for Parkinson's S.A Pty ( Ltd). Julie returned to New York in October 2017 to spend a month completing the Advanced Training and Certification program.
Julie is now one of a select group of practitioners worldwide who are authorized to train other dance teachers in the Dance for PD® program, and has presented training workshops in Johannesburg and Durban. She currently oversees a network of 7 classes in and around Cape Town! Since the inception, Dance for Parkinson's S.A has been featured in numerous newspapers, magazines, television and radio.
"I love teaching Dance for Parkinson's classes – every single class gives me goose bumps and giggle! We learn to laugh again and at the same time, give the mind, body and soul some much needed TLC!"