Join Us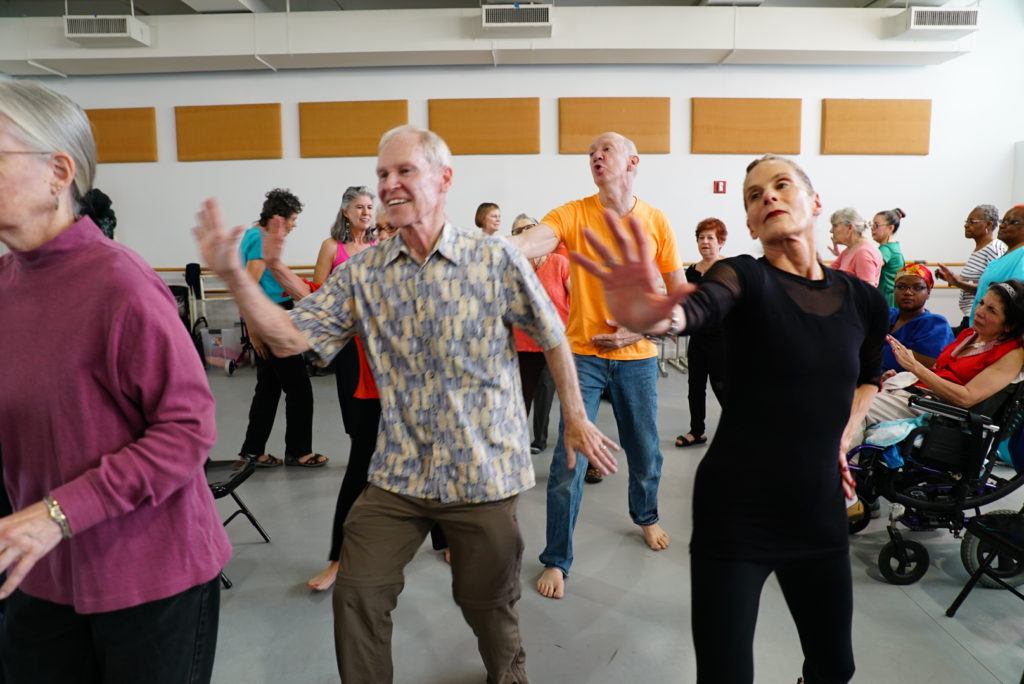 Thanks for your interest in supporting our work!
Your support has a significant impact on our annual programs. You can offer your support through multiple channels: Membership, Charitable Giving, Gifts of Stock, DRS or DRIP transactions, IRA Rollovers, Donor Advised Funds, and Planned Giving.
MEMBERSHIP
When you join or renew as a member of Dance for PD, you receive annual benefits relative to your level of giving. Visit our membership page for details. Memberships are fully and partially deductible to the extent provided by law.

CHARITABLE GIVING
When you make a donation to Dance for PD, you provide vital support for our annual programs. Your gift will be fully tax-deductible to the extent provided by law. This method of giving is often chosen by supporters who do not wish to receive the benefits provided with membership and prefer full tax-deductibility of their gift.

Give or Become a Member By Mail
Download a donation/membership form and mail a check made out to Discalced, Inc. (with Dance for PD listed in the Memo of the check), to:
Dance for PD
Mark Morris Dance Group
3 Lafayette Ave.
Brooklyn, NY 11217-1415
DANCE FOR PD® is a program of Discalced, Inc. (dba Mark Morris Dance Group), a registered 501(c)(3) tax-exempt non-profit organization.
MORE WAYS TO GIVE
Many people choose to transfer securities rather than making a direct contribution of cash. Should you choose this method of giving, you may not pay any capital gains tax on your gift, and you may be able to claim a Federal income tax deduction based on the full fair market value of the securities on the effective date of your gift.
Stock Gifts can easily be made by electronic wire transfer to our Schwab Account. Ask your financial advisor to reach out to us. Please make sure your broker lets us know the number and kind of shares that are being donated so that we can quickly verify the transaction. In addition, please note our legal nonprofit name "Discalced, Inc." for all wire transactions and designate your gift to Dance for PD.
Direct Registration Account (DRS) or Dividend Reinvestment Program (DRIP) Gifts made through a transfer agent such as Computershare, BNY Mellon, or another agent, will prompt the agent to mail a transfer form to us. PLEASE NOTE: Their notification may only list the transaction. To ensure we have your information so that we can acknowledge your generosity personally, please email us once the transfer is confirmed to share the number, kind, date of your donation, and confirmation number.
IRA Charitable Rollovers allow individual taxpayers age 70½ and older to donate distributions up to $100,000 annually to charitable organizations. These contributions can be made directly to the Mark Morris Dance Group from traditional IRAs or Roth IRAs. They are not included in the donor's adjusted gross income and are considered tax-free gifts.
Donor-Advised Funds enable donors to make a tax-deductible charitable gift to a sponsoring non-profit organization and subsequently determine grants to be made to various other non-profits from that fund. Donors can continue to contribute to the fund over time and donations are typically invested at the donor's discretion with the potential for tax-free growth.
Planned Gifts – Legacy Society Giving
Planned gifts provide for the company's future while creating a lasting and meaningful legacy for you and your loved ones. When you name Discalced, Inc. (our legal nonprofit name) in estate plans and designate your support for Dance for PD through bequests, gift annuities, charitable trusts, and beneficiary designations, you will automatically become a part of the Legacy Society. Your gift may have valuable tax benefits to you; and you'll also enjoy invitation to a special annual event for Legacy Society members-only.
How does it work?
Planned gifts are determined in the present day and granted at a later date, often providing benefits to the donor such as reduced income and estate taxes. Planned gifts can be made to the Mark Morris Dance Group (or to our legal nonprofit name "Discalced, Inc.") through IRA Charitable Rollovers, Bequests, Donor-Advised Funds, and Life Insurance and Retirement Plans. All funds will be used for annual operations unless otherwise designated toward a specific program or use.
Bequests can be made through a living trust or will. This type of planned gift can be assigned a specific dollar amount or a percentage of your total estate. The Mark Morris Dance Group and our Dance for PD program can also be designated as a contingent beneficiary should other beneficiaries predecease the donor. Bequests often significantly reduce the sum of your taxable estate.
Life Insurance and Retirement Plans are other vehicles through which donors can support us. Life Insurance policies can be donated as tax-deductible gifts, with premiums still being paid on donated policies considered tax-deductible contributions as well. Assets from Retirement Plans such as IRAs, 401Ks, and 403Bs can also be given to the Mark Morris Dance Group as charitable gifts at significantly reduced taxation rates.
Contact David Leventhal, Program Director for Dance for PD or Michelle Amador, Director of Development for the Mark Morris Dance Group for more information. We also invite you to call us at 1-800-957-1046 ext. 10.