Mind Music Movement Foundation classes

Dance for PD® is committed to working with our partners to support our global community and encouraging people living with Parkinson's to keep dancing during a time when live classes may not be available. In partnership with the Mind Music Movement Foundation, we are pleased to offer free access to a live Dance for PD class, led by Dance for PD's founding teacher David Leventhal, via Zoom every Monday from 11 a.m. – 12 p.m.
Please note that registration is ONLY available starting 15 minutes before each class. No pre-registration is required.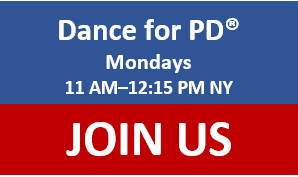 Click here for additional At Home classes and resources.
---
About Dance for PD®
In Dance for PD® classes, people living with Parkinson's and their families are invited to explore elements of different dance and movement styles with energizing and inspiring music as a guide. Anyone, at any level of ability and mobility, is welcome to participate in this award-winning, research-backed global program created and offered by the Mark Morris Dance Group. No dance experience is required. Experienced teaching artists from Dance for PD's New York flagship program emphasize a spirit of creativity and fun while demonstrating seated options for all activities. Classes, which currently take place via Zoom, include informal optional conversation sessions so participants from around the world can connect and chat. Click here for additional At Home classes and resources.
About the Mind Music Movement Foundation
The Mind, Music, and Movement Foundation for Neurological Disorders supports comprehensive integrative programming that addresses movement, mobility, balance, speech, nutrition and mental well being. Their team is composed of specifically trained social workers, wellness coaches, speech and voice specialists, along with art, movement and fitness professionals. They are local to the Palm Beach area, but with virtual classes, anyone across the country or even globally can join the programming.
The main objective of the foundation is to instill confidence, strength, wellness, friendship and commitment in every member and their family. Their trained staff motivates each client to work hard towards achieving their individual goals, independently and in groups.
"GIANT LEAPS BEGIN WITH SMALL STEPS."
Click here to access the Foundation's online class offerings.