Dance for PD At Home Tuesdays

Dance for PD® is committed to working with our partners to support our global community and encouraging people living with Parkinson's to keep dancing during a time when live classes may not be available. The American Parkinson Disease Association, in partnership with New York Foundation for Eldercare, invites you to participate in one of our free, live group classes via Zoom. Please click below to see the full schedule and join us!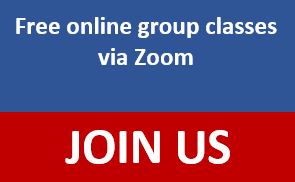 Click here to learn about Zoom and download the desktop client.
---
About Dance for PD®
In Dance for PD® classes, people living with Parkinson's and their families are invited to explore elements of different dance styles with energizing and inspiring music as a guide. Anyone, at any level of ability and mobility, is welcome to participate in this award-winning, research-backed global program created and offered by the Mark Morris Dance Group. No dance experience is required. Experienced teaching artists from Dance for PD's New York flagship program emphasize a spirit of creativity and fun while demonstrating seated options for all activities. Classes, which currently take place via Zoom, include informal optional conversation sessions so participants from around the world can connect and chat. Click here for additional At Home classes and resources.
About PRO
Dance for PD® PRO is a class designed for the working professional or those who seek a level of mastery, comprehension, and focus through a more rigorous dance experience. Modeled after the award-winning Dance for PD® program, Dance for PD® PRO classes integrate elements of ballet, modern and tap technique to help people with Parkinson's build and master a specific set of dance skills through a focused, intensive approach. To provide a comprehensive learning experience, master Dance for PD® teachers, will combine accelerated physical and cognitive training, technique, improvisation and a focus on structural alignment in an intimate, friendly, personalized workshop environment. The class will include a progressive standing warm up, standing barre work and traveling steps.