HomeDance

Welcome to HomeDance

HomeDance is a collaboration between Senior Helpers and Dance for PD®, a global leader in designing and delivering high quality movement experiences for people with Parkinson's. The HomeDance project is designed to add a creative, stimulating and interactive movement component to Senior Helpers' new Parkinson's Care Program.
About HomeDance
The aim of HomeDance is to foster 10-15 minutes of seated dance-based physical activity for both clients and caregivers during each Senior Helpers home visit. This movement session will be based on interactive dance activities designed by Dance for PD and delivered through a DanceKit that features a DVD as a virtual guide, along with a music CD, and printed handbook containing considerations and suggested adaptations. Inspiring and appropriate music, a critical component of the Dance for PD program, will accompany each activity on the DVD.
About Dance for PD®
Dance for PD, launched in 2001 as a collaboration between Mark Morris Dance Group and Brooklyn Parkinson Group, has become the leading provider of high quality dance classes for people with Parkinson's, as well as an internationally-acknowledged training system for instructors interested in working with the Parkinson's community. There are Dance for PD-affiliated group classes in more than 125 communities in 22 countries around the world. In 2013, Dance for PD launched its first At Home DVD series, created to allow people with Parkinson's to enjoy a full dance experience in the comfort of their own homes. More than 4,000 DVDs have been distributed to 24 countries around the world. In 2015, Dance for PD launched a live streaming initiative, in partnership with Canada's National Ballet School, that broadcasts monthly Dance for PD classes from Brooklyn and Toronto so that anyone with an internet connection can participate virtually. However, the Dance for PD team recognizes that home-bound people with Parkinson's could benefit from a more interactive, guided experience that could be delivered by someone they already see every day—their professional Senior Helpers caregiver.
DanceKits
The DanceKit forms the core of the HomeDance program. Each kit features a specially-produced DVD and companion CD, along with evaluation forms and an accompanying full-color activity guide that Senior Helpers caregivers can use with their clients to create a customized, enjoyable HomeDance experience.
Each DanceKit is $49.99 plus shipping, with discounts available for 3 or more units. At this time, DanceKits are available exclusively to Senior Helpers franchisees, administrators and staff.
Training webinar
To review the training and orientation webinar, please click below: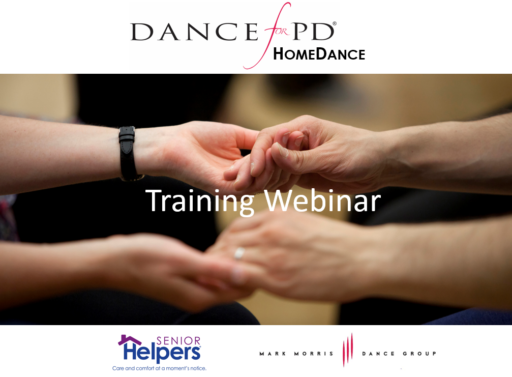 Support
Online videos
DanceKit purchasers automatically get free access to stream HomeDance activity videos, and to stream or download music tracks. If you've already purchased a DanceKit, your user name and password will be sent to you within 2 business days. Questions? Please contact us at info@danceforpd.org.