COVID-19: Our response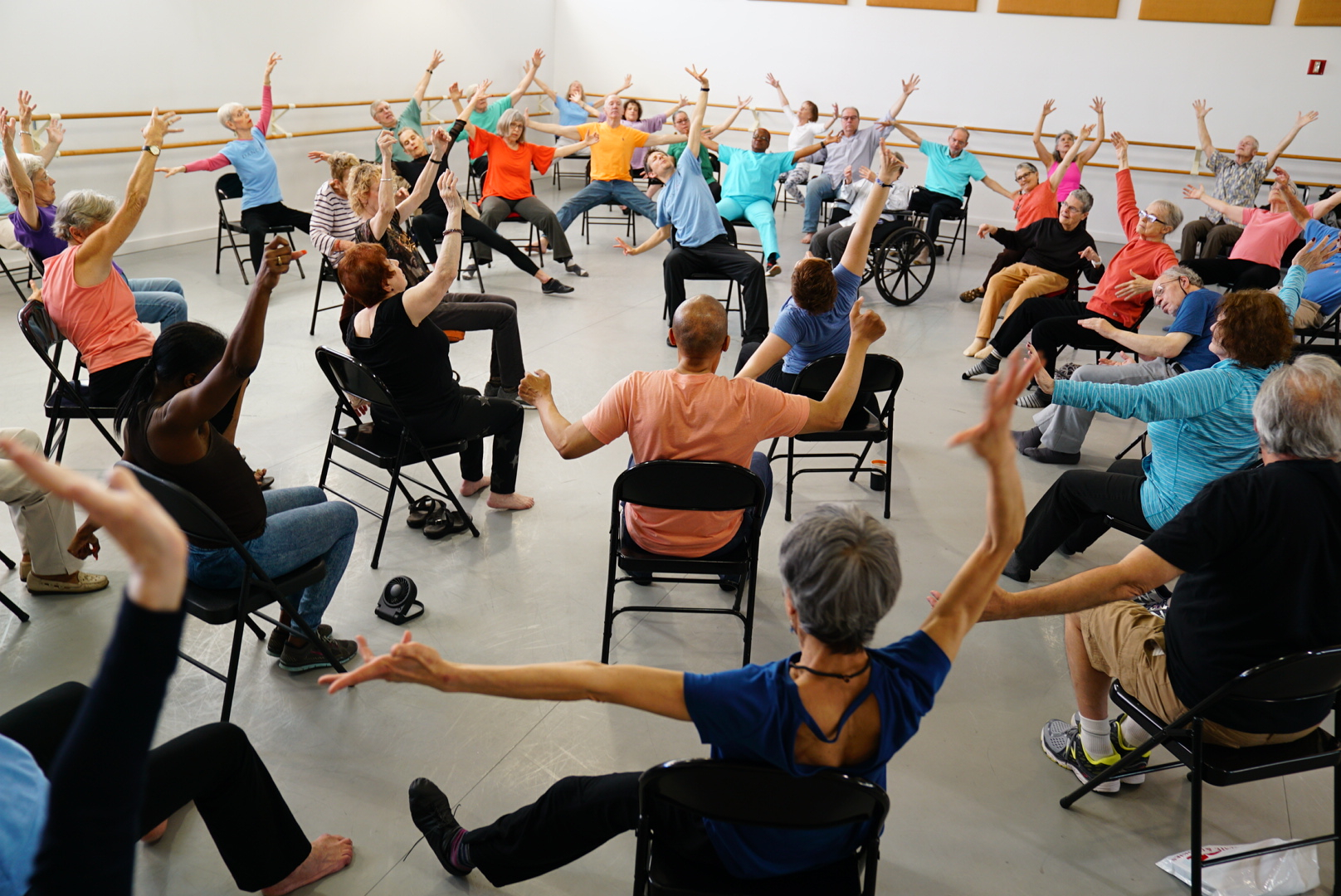 The Mark Morris Dance Group's Dance for PD program is built upon the belief that dance can impact health, well-being, and community in profoundly positive, transformative ways. First and foremost, our responsibility is to ensure your good health and safety, and the health and safety of Dance for PD constituents in more than 300 communities throughout our global network.
We realize that for many of our constituents living with Parkinson's, good health depends on staying active and connected while simultaneously following local advisories about social distancing and sheltering at home. We are committed to thoughtfully balancing these needs, and we are providing resources and information to keep all of our valued constituents—participants, partners, teaching artists and musicians, volunteers and administrators—safe, healthy and engaged.
Here's what we're doing to ensure the safe continuation of our our mission:
– Dance for PD is offering all New York City flagship programming and activities online until further notice. We will continue to evaluate current recommendations for group activities and will provide updates accordingly.
– We are offering free, unlimited access to up to eight live, group Zoom-based classes each week so that participants from New York City and throughout our global community can dance together and stay connected. To access these classes, please click here.
– We are providing free, unlimited access to the Dance for PD video class library, which supports people around the world who wish to keep dancing at home when local group classes are unavailable. To access this resource, please click here.
– We are continuing to create new online content to supplement our existing class library. Stay tuned as we add new videos.
– We have developed an on-demand Dance by Phone system so that people without internet access or digital technology may benefit from the experience of a dance class. For more information, please click here.
– We are eliminating domestic and international shipping charges for customers who order our At Home DVD pack, which contains more than seven hours of at home programming. Just click here and use the code HEALTHY to take advantage of this offer.
– We are providing sample messaging and guidance for remote teaching to all teachers and administrators throughout our network as they navigate this challenging time with an on-going commitment for health and safety. To access updated messaging, please click here.
– We have cut prices on the Video on Demand versions of our At Home DVD series by 20%. Please click here to take advantage of this special rate.
– Our classes, and the support groups we facilitate, provide opportunities for online meet-ups so that our participants can meet and connect virtually, providing a sense of connection, belonging and community even as people are encouraged to stay indoors.
– Our team is personally checking in with members of our New York City community to ensure that they are safe and have what they need to conduct basic activities of daily living.
– We encourage you to stay informed through resources provided by the CDC, the APDA, and the World Health Organization. If you live in New York City and are experiencing stress or anxiety, contact NYC Well at 888-NYC-WELL (888-692-9355) or text WELL to 65173. NYC Well is a confidential help line that is staffed 24/7 by trained counselors who can provide brief supportive therapy, crisis counseling, and connections to behavioral health treatment, in more than 200 languages. Additional mental health support resources may be found at the ADAA's website.
The entire Dance for PD team is here for you, and we welcome your input, questions and suggestions. If there is anything we can do to support you during this time, please reach out to us by email (admin@danceforpd.org), phone (1-800-957-1047 or +01 646-450-3373) or through our Contact Us portal.
"Let hope be the antidote to fear.
Let solidarity be the antidote to blame.
Let our shared humanity be the antidote to our shared threat."
—Dr. Tedros Adhanom Ghebreyesus, Director-General, World Health Organization
---
Suspended programs due to COVID-19 are having a significant impact on the financial health and sustainability not only on our programs but of our overall institution, the Mark Morris Dance Group. Please help us navigate this crisis by making a donation in any amount to the Dance On! Recovery Fund.
---
Additional Resources
COVID-19 resources from Davis Phinney Foundation
COVID-19 information from the Parkinson's Foundation
How to Manage Anxiety and Isolation During Quarantine
Expert Quick Tips for Managing Coronavirus Anxiety
Tips For Managing Corona Virus Anxiety Part 2
Manhattan Senior Center meal pick up times
Transform Coronavirus Fear into Love: A Five-Minute Meditation
Ways to volunteer and help
Singing for Better Breathing
(a Sing for Health resource)
Power for Parkinson's online exercise classes
Dance for Wellbeing
(Belconnen Arts Centre)
Creative Isolation links (MARCH Network)
Heather Curran's Sing for PD singalong playlist
Covid-19: Protecting Your Family by Dr Dave Price, Weill Cornell Medical Center
"I imagine all the closures and cancellations give people a sense of ominousness. But it's really an amazing act of social solidarity: We're sacrificing so we can give nurses, doctors and hospitals a fighting chance. Start from there and hopefully we can figure out the rest."
Matt Pearce
LA Times reporter