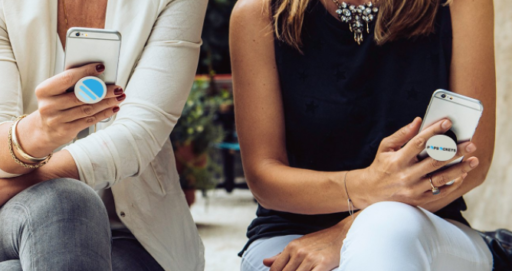 We see it each week–after class, our Dance for PD students reach for their phones to call for a ride, check their messages, or reset their medication timers. And sometimes they have difficulty holding onto the phone as they talk or text, a slight tremor or finger rigidity making the thin shape tricky to hold. Enter PopSockets.
PopSockets is a mobile accessory that helps to transform devices by offering a secure grip, built in stand, and easy mounting options. PopSockets stick to the back of your phone, case, or tablet to help you securely hold your mobile device. PopSockets' patented design enables you to 'pop' your PopSocket whenever you need a grip or stand. You can then collapse your PopSocket for slim, sleek, convenient transport, transforming your mobile device into a fashionable, fun experience.
The team at PopSockets had received emails from people who have a hard time comfortably using their mobile devices due to health issues like Parkinson's Disease. "They shared with us their frustrations about struggling to call loved ones, order take-out, or even call 911 because they have trouble holding their phones steady," said David Barnett, PopSockets Founder and CEO. "They have also told us how PopSockets have helped."
PopSockets launched in 2014 and has since grown into a multi-million dollar enterprise. Until recently, the company simply didn't have the resources to engage the community but they're making up for lost time and stepping forward in a big way. PopSockets and its Do Good initiative is partnering with four organizations–Dance for PD, Michael J. Fox Foundation, Davis Phinney Foundation, and Rock Steady Boxing–to get free PopSockets into the hands of thousands of people with Parkinson's. In addition to distributing thousands of free accessories, PopSockets will be donating 10% of its fourth quarter net proceeds to support the work of the partner organizations. Contributions to Dance for PD will directly support our diversity and inclusion initiatives and our international teacher training program. PopSockets has also created a webpage that profiles some of the remarkable people who live with Parkinson's disease every day.
To learn more about PopSockets, please click here. If you have Parkinson's and would like to join the list for free PopSocket distribution, please click here to join our mailing list.
We are grateful to the entire team at PopSockets for their generosity and willingness to make a difference.