Find a Class
Dance for PD Certified Teachers
(**)
denotes charter affiliate program -
(T)
one or more teachers in this location have completed a Dance for PD training workshop. - (
Certified
) denotes teacher is certified by Dance for PD®
Dance for PD Certified Teachers exemplify the highest level of teaching standards in our network. Each certified teacher has undergone extensive training, professional development, peer review, mentoring, and assessment. Established teaching artists in their own right, they have successfully adapted advanced Dance for PD methods into their individual approaches. Learn more about our certification program here.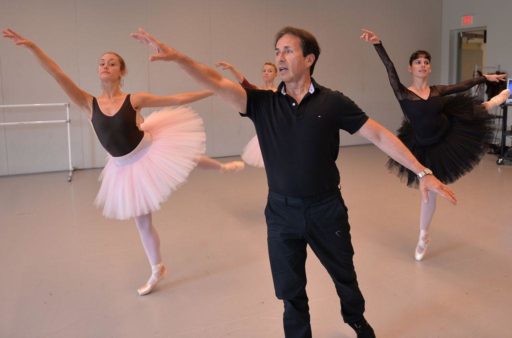 A native of the South American country of Colombia, Carlos Agudelo began his training with the Atlantic Foundation for the Performing Arts in Fort Lauderdale, FL, under the direction of Ruth Petrinovic. He recieved a scholarship to study at the Harkness Ballet School in New York City with David Howard. He danced with the Israel Classic Ballet in Tel Aviv, Israel, and with the International Ballet de Caracas under the direction of former Harkness Ballet dancer, Vicente Nebrada. With Ballet de Caracas, Mr. Agudelo toured all over the world including a season at City Center in New York. He performed in works by John Butler, Margo Sappington, Vicente Nebrada, George Balanchine, and Alvin Ailey, who coached him in Mr. Ailey's ballet, The River. He also danced with Ballet Hispanico of New York under the direction of Tina Ramirez, in works by Tally Beatty, Jeoffrey Holder, Lynn Taylor Corbett, and many other innovative choreographers.
Mr. Agudelo has been Ballet Spartanburg's Artistic Director since 1991. His choreography includes: The Nutcracker, Coppelia, Peter and the Wolf, Fairy Tales (The Magic Pearl), Altered States, Carmina Burana, The Hobbit, Hansel and Gretel, Little Red Riding Hood, The Sleeping Beauty, Cinderella, The Little Mermaid, Alice in Wonderland, Carnival of the Animals, A Midsummer Night's Dream, Romeo and Juliet Pas de Deux, The Great Gatsby, and West Side Story. Under his direction, Ballet Spartanburg has performed at the Piccolo Spoleto Festival in Charleston, the Koger Center in Columbia, the Peace Center in Greenville, and at the Foundation for the Performing Arts in Rutherford County, NC. Also under his direction, Ballet Spartanburg has performed his choreography in operas for the Converse College Petrie School of Music, including: Oh Susannah, La Traviata, Carmen, and Hansel and Gretel.
Carlos teaches in Spartanburg, SC.
---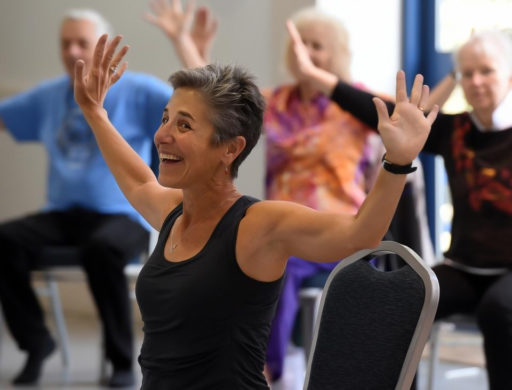 Rachel Balaban began dancing at the age of 3, encouraged by her doctor to engage in a physical activity after being diagnosed with a heart murmur. She danced her way through her undergraduate years at Brown University then pursued a career as a clothing designer, always keeping one foot in the dance world. Once her 3 young daughters were in school, she made a career change and began her future with Dance for PD. Rachel received her initial training for Dance for PD in 2009 and immediately began teaching at Connecticut College in New London, CT where she still teaches today. In 2012, she co-founded a program at Brown University called Artists and Scientists as Partners (ASaP) where undergraduates explore the impact of music and dance on people with neurological disorders, specifically Parkinson's disease and Autism Spectrum Disorder. The students work with both medical and arts practitioners to foster creative, integrative health practices. The ASaP curriculum pairs people with PD and dancers with other movement challenges along with Brown University students. They spend 8 weeks dancing together and getting to know each other in simple and profound ways.
"I knew the benefits of having young people in our class for people with PD but I never anticipated how much of an impact it would have on my undergraduate students. They are changed by this experience of being with older people and people with PD. In class, they study the biomedical causes of PD but never see the social and emotional implications. Our class allows them this unique opportunity to get to know each other on a very deep level. In turn, dancers with PD get to interact weekly with youthful dancers on a vibrant college campus. Everyone is happy!"
Rachel is committed to helping people access their vitality and health through the use of their own bodies and to make dance accessible to all populations. She leads movement workshops for schools, faculty, foundations, corporations, hospitals and other healthcare facilities. Rachel attends the professional development workshop at MMDG each year and loves reconnecting with all the wonderful instructors she's met over the years.
Rachel teaches in New London, CT and Newport and Providence, RI.
---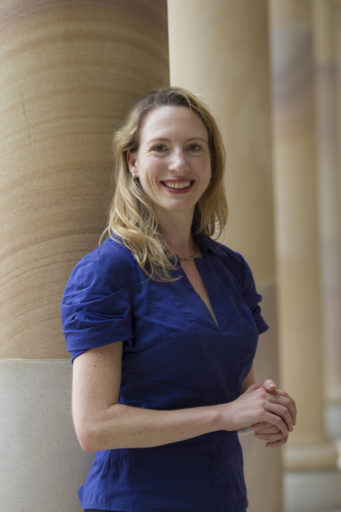 Dr. Erica Rose Jeffrey co-founded the Dance for Parkinson's Australia program with David Leventhal in 2012. Erica Rose was inspired by the Dance for Parkinson's programs in New York and California at Berkeley Ballet Theatre and was instrumental in launching the Parkinson's Dance Project, Marin County's first Dance for Parkinson's program in 2010.
Dr Jeffrey believes in the power of movement connected to positive social change. Originally from Montana, she has worked as a performer, choreographer, educator and arts leader in the United States and internationally. The first Dance for PD® certified teaching artist in Australia, Erica Rose holds a PhD in Creative Industries focusing on Dance and Peacebuilding from Queensland University of Technology, a M.A. in International Relations-Peace and Conflict Studies from the University of Queensland, and B.S. degrees in Dance and Mediation and Conflict Resolution from Indiana University.
She is the Director of Dance for Parkinson's Australia working in Partnership with Dance for PD®, and has presented workshops with Queensland Ballet in Brisbane, the Sydney Opera House, The Australian Ballet, Ausdance, the Belconnen Arts Centre and other organizations throughout Australia. Working with Dance for PD®, she is supporting the expansion of training and class opportunities in China, Korea, Malaysia, New Zealand and Japan. She is also a co-Director of Peace and Conflict Studies Institute Australia, implementing and researching peacebuilding projects in the Asia and Pacific regions.
Erica Rose teaches in Australia
---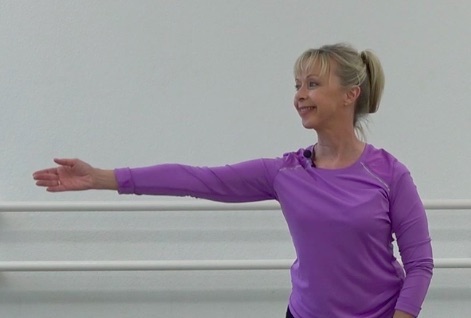 In 2010, while teaching at Santa Barbara City College, Pamela Lappen received a recommendation from Lineage Dance to attend the Dance for PD® teacher training in Pasadena, CA. Upon completing her first Dance for PD® training with David Leventhal, Misty Owens, Olie Westheimer, members of the Pasadena medical community and the spirited Pasadena PD dancers, Pamela was deeply moved by the experience and knew that dance for Parkinson's disease was to be her new path in dance. Since then Lappen's work with the Southern Nevada Parkinson's community has received support from the Parkinson's Foundation, Nevada Arts Council, The National Endowment for the Arts and Friends of Parkinson's.
In Parkinson's education, wellness and medical symposiums, Pamela's work in dance for Parkinson's has been presented at: the Cleveland Clinic – Las Vegas, PMD Alliance, Parkinson's Place – Las Vegas, h2u – Mountain View Hospital and with Friends of Parkinson's. And, Pamela and her PD dancers always enjoy the support of the UNLV Physical Therapy students when they can join us in class. Pamela has a lengthy dance history as a performing artist, educator, choreographer, and advocate. She has taught dance at colleges, universities, high schools, and professional dance schools, and her students have ranged from novice to professional dancer. However, Pamela's advocacy for dance began at a young age. Growing up in a small community in northeastern Wisconsin, she quickly learned if you want change in your community sometimes you must be the change. After working alongside fellow Dance for PD® teaching members in Southern CA and Nevada, in the spring of 2016 Pamela began her own program, Dancing with Parkinson's – us, at Desert Springs United Methodist Church, in Las Vegas, NV.Through community support Pamela's classes are now offered at Las Vegas dance studios. Since she began Dancing with Parkinson's – us her PD dancers have participated and performed in educational dance videos, lecture demonstrations, and the PD Crane Dance Project.
Lappen received her Dance for PD® Teacher's Certification in July 2019. Offering weekly Dance for PD® classes, she looks forward to creating new projects for her PD dancers, along with building bridges in the community to support those with Parkinson's disease, their caregivers, family and friends. Pamela Lappen holds a M.A. from UCLA in Dance and Education. She was a UCLA Fellowship and Scholarship recipient and held a teaching position as a graduate student. Her thesis "Communication and Understanding Within the American Arts Enterprise, from the Perspective of Creators and Presenters: a Case Study in Los Angeles" examined the problem of communication and understanding about fundraising for dance education from the perspective of six Los Angeles creators and presenters. She also holds a B.F.A. from UW-Milwaukee in Dance and Theatre Performance where she graduated with Honors. With a lifelong interest in creating healthy pathways for movement, Pamela
continues to take her weekly ballet classes, practices her somatic exercises and is a Certified AntiGravity® Fitness instructor where she teaches weekly classes at Shine Alternative Fitness. Knowing there is much work to be done in the dance arts, as it pertains to the individual and collective wellbeing….in the meantime we shall dance.
Pamela teaches in Las Vegas, NV.
---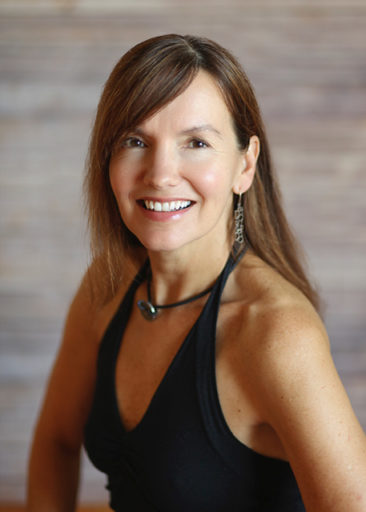 Susanne Liebich took her first dance class at the age of 2. Through her teens, she studied ballet at the Boston Ballet School. Her dream was to become a ballerina, but her feet walked her down a different path. Even as she worked in finance and went onto to receive her MBA from BU, she continued to study modern jazz at studios in Boston and Cambridge. After her family moved to the Berkshires , she taught jazz dance for a local studio. Through volunteering at Jacob's Pillow she developed a love for choreography and all forms of movement. She founded a small repertory company called Aboutdance that performed twice at the InsideOut Theater at Jacob's Pillow.
In 2011, Susanne attended her first Dance for PD training, and has continued to enrich her practice with Advanced PD trainings and certifications in Nia (somatic movement) and Stott Pilates. Besides traditional dance and somatic movement, she has studied salsa, West African dance and ballroom dance. Using creative techniques from the Dance for PD model, she expanded her teaching practice to include healthy seniors, individuals with Alzheimer's, vets with PTS, and children with burns. Collaborating with neurologists from her sponsoring organization, Emerson Hospital, she designed a community workshop for individuals with Parkinson's that included self-care modalities such as Dance for PD and LSVT Big and Loud. She has presented workshops on Dance for PD at hospitals, wellness centers and senior organizations. One of her students was inspired by her teaching and donated his family foundation to Emerson Hospital to support scholarships to make Dance for PD classes available to all students regardless of income level.
Susanne's mission is to provide the joy of dance to her students. She guides them in creating magic and expression in their bodies; her community of dancers inspire her every day to create beauty and artistry in life through movement. Or last paragraph can be in first person…"My mission is to provide the joy of dance to my students. I guide them in creating magic and expression in their bodies. My community of dancers inspire me every day to create beauty and artistry in life through movement."
Susanne teaches in Concord, MA.
---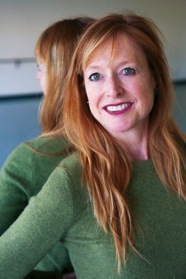 Lucy Bowen McCauley is the Artistic Director, choreographer, and creative energy behind Bowen McCauley Dance Company (BMDC). Since founding the company in 1996, she has created over 100 works ranging from lyrical ballets to highly physical contemporary pieces set to rock music. Her choreography offers an unconventional array of genres and blends balletic lines, quirky gestures, and modern dance's earthiness. Her work explores the interplay between music, dance, and drama. Washingtonian Magazine named her among those "who have helped transform Washington into one of the nation's liveliest centers in performing arts."
A dancer since childhood, Lucy's early training at the Jordan School of Music & Dance in Indianapolis, and the Interlochen Center for the Arts in Traverse City, Michigan, provided her with a profound appreciation for both music and musicians that is so striking in her work. At age 18, she accepted a scholarship to the Joffrey School in New York City where she performed with the Joffrey Concert Group.
She also danced with the Maryland Ballet, the Virginia State Ballet, DC Contemporary Dance Theatre and Daniel West Dancers, and was a founding member of Eric Hampton Dance. She pioneered a unique stretch technique 30 years ago, Bowen McCauley Stretch, which has been featured in USA Today, Dance Teacher, and The Washington Post. Lucy currently serves on the industry's trade association, Dance/USA – National Leadership Council for Dance. Past board service includes the Arlington Chamber of Commerce and a member of the Arlington Economic Development Commission.
Throughout her career, Lucy has received numerous awards and recognition for her excellence in dance. Most recently, she has been honored with the Woman of Vision Award from the Commission on the Status of Women, the prestigious Pola Nirenska Award for Outstanding Achievement in Dance and the Lifetime Award for Outstanding Achievement in Dance Education. Lucy has received the Alumni Path of Inspiration Award from the Interlochen Center for the Arts and the STAR Award for Artistic Excellence from the Arlington Commission for the Arts. She is a recipient of the Elizabeth Campbell Award for the Advancement of the Arts in Arlington from the American Association of University Women and the James B. Hunter III Arlington Community Hero Award, which recognizes people who make an ongoing difference in the Arlington community.
Lucy is an active member of Dance/USA and just recently appointed the Inaugural Chair of the National Leadership Council for Dance. Past Board service includes the Arlington Chamber of Commerce and Arlington Economic Dev. Commission.
BMDC has been offering free classes for people with Parkinson's Disease in multiple locations since 2009 and is the only Dance for PD licensed affiliate in the DC metro area. Lucy has also been teaching her unique and kinesthetic stretch technique for over 30 years to athletes and non-athletes alike. Bowen McCauley Stretch incorporates a series of continuous and static movement along with deep breathing to reduce stress, increase mobility and offer over all improved well being.
Lucy teaches in Virginia.
---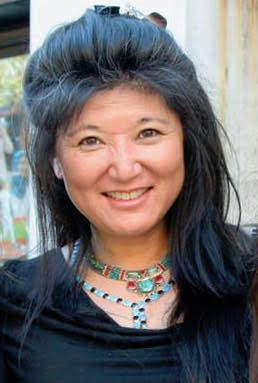 Claudine Naganuma co-founded the Dance for PD® program with David Leventhal and Herb Heinz of PD Active at Danspace in 2007. She is the director of dNaga dance company and created the PEACE Project in 2009 to explore finding personal peace through the lens of those living with Parkinson's disease. dNaga was filmed as part of Dave Iverson's documentary Capturing Grace and her choreography was performed at the World Parkinson Congress in 2016.
Naganuma holds a B.A. in English Literature, Creative Writing from Dominican College and an M.F.A. in Dance in Choreography and Performance from Mills College. Naganuma founded the GIRL Project in 2014 which offers dance and empowerment classes for 11 to 14 year old girls in East Oakland. She served as the Artistic Director of Asian American Dance Performances from 1992 – 2004 and was a founding member of the Asian Pacific Islander Cultural Center in San Francisco. She received a Young Presenters award from Jacob's Pillow and a Jack Loftis and Vibeke Strand Honorary Fellowship as a Djerassi Artist in Resident. In 1999 she was selected as an international exchange artist between the Hong Kong Fringe Club and the Yerba Buena Center for the Arts.
Naganuma serves as the director of Danspace where she teaches weekly Dance for PD® classes and offers an inter-generational class for people with Parkinson's and youth dancers. For more information, please visit www.dNaga.org.
Claudine teaches in Oakland, CA.
Photo by Esperanza Urueña
---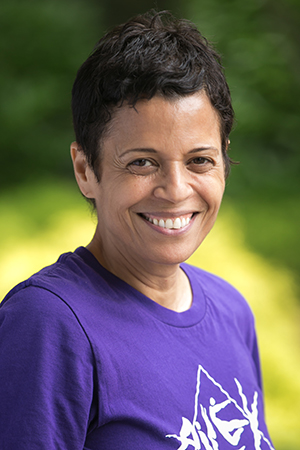 Shawn Roberts has a background in dance and theater, beginning her studies of dance with Stanley Knaub, SuzAnneDuckworth and Dale Merrill, and her studies of theater at Freehold Theatre. Ms. Roberts is the founding School and Education Director of Spectrum Dance Theater (Artistic Director Donald Byrd), where she directed, taught and produced student performances for more than 18 years. She is applauded for her profound work in transforming Spectrum's community dance classes into a successful curriculum-based school for beginning through pre-professional dancers. In 2008, Ms. Roberts completed the Mark Morris Dance Group's Dance for PD® teacher training and has been teaching classes and managing the STG program since 2009. In 2015, she completed the Dance for PD® certification, making her the first certified Dance for PD® teaching artist in the world outside of the founding teachers. Shawn also directs STG's annual Ailey Camp.
Shawn teaches in Washington State.
---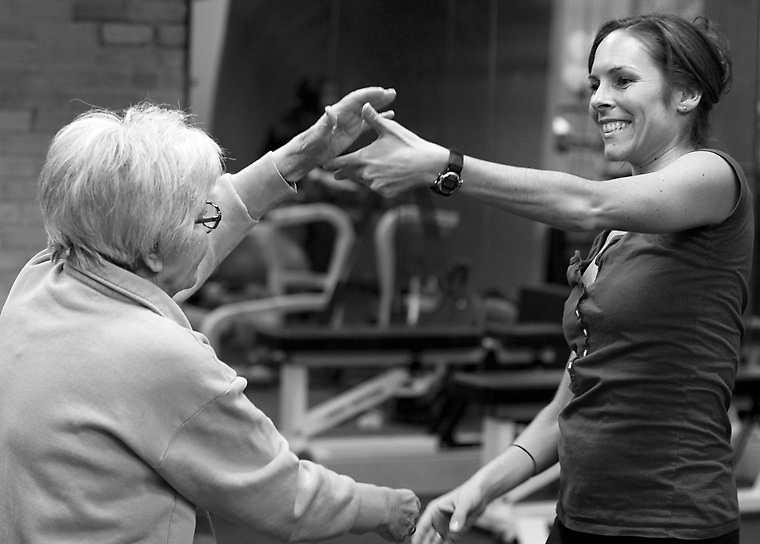 Sarah Robichaud is the first Dance for PD® Certified Teacher in Canada. Sarah is a classically trained dancer, author, entrepreneur, and charismatic leader, who has been recognized as a force for purposeful and impactful change as the founder and executive director of the registered charity 'Dancing with Parkinson's.'
Sarah studied and performed extensively throughout Canada, Europe and Moscow where she trained at the Bolshoi Ballet School, and has performed and choreographed for many theatre, film and television projects over the last 20 years. Sarah's interest in Parkinson's Disease began in the spring of 2007 when her client Andy Barrie (formerly of CBC Metro Morning) asked for help managing his physical PD symptoms through exercise. Sarah learned about the innovative PD dance class being offered by Dance for PD and went to New York to take part in their first teacher training program. Sarah was immediately inspired to offer DWP dance classes in Toronto starting in 2008 and thus Dancing with Parkinson's Canada was born. DWP now offers classes in over 15 locations throughout the Greater Toronto Area.
Sarah's passion for helping other connect and express through dance prompted her to launch her most recent initiative, a groundbreaking dance and arts program focused on addressing mental health challenges of First Nations peoples in Pikangikum, a struggling community with the world's highest suicide rate.
Sarah teaches in Toronto.
---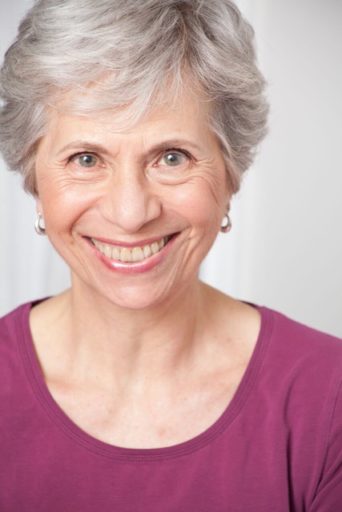 Judith Sachs trained in the 1960s with Alvin Ailey (jazz), Arthur Mitchell (jazz), Deborah Jowitt (modern) and Carola Goya and Matteo (Bharata Natyam and Flamenco) and started her professional life at the Hartford Stage Company in 1969 and Café LaMama (1970). But she subsequently took a different course and moved onto healthcare writing and marketing until 2011, when, with 2 hip replacements, she decided to return to her dance career.
She has been part of the Parkinson's community in Philadelphia since that time, when she developed a patient information website for GE Healthcare on a test to determine the differences between Parkinson's and essential tremor and simultaneously became a Dance for Parkinson's teacher.
Her goal now, at 71, is to get everyone dancing, whether in a chair or across the floor.
In addition to teaching Dance for PD in Abington, she works through her own ANYONE CAN DANCE® program in residential facilities, senior centers and private homes with those who have never considered dance or remember it fondly from childhood. In addition, she is part of the CenterStage arts in medicine program at Penn State Hershey Cancer Institute, dancing with patients and caregivers in the infusion suites. Judith is a member of the Lifetime Arts teaching roster and was named Teaching Artist of the Month in November 2017. She won a 2015 Leeway Foundation Grant for her intergenerational dance project and a Leeway WOO grant for her work in cancer dance.
Judith teaches in Philadelphia.
---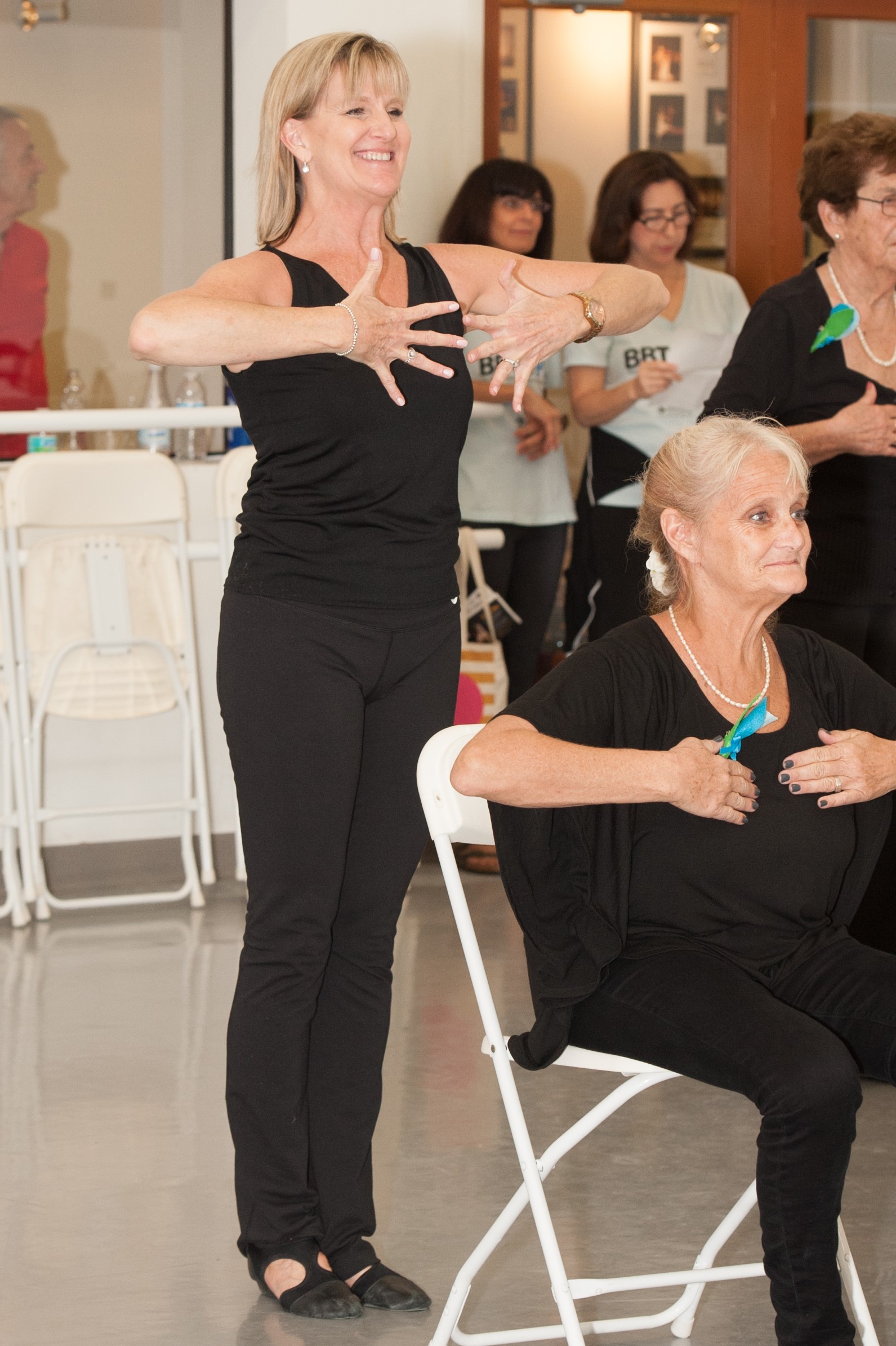 Cindy Surman co-founded the Dance for PD® Program at Boca Ballet Theatre in 2013, where she is one of the founding faculty of The School of Boca Ballet Theatre and is the Assistant to the Directors. She began her early dance training in Houston, Texas studying with Edna Herzog, and continued training at Boca Ballet Theatre. Ms. Surman has performed multiple roles both on and off stage as a dancer and a teacher.
She holds a BBA from the University of Texas where she was an All American Collegiate Cheerleader. Her three years as a teacher for National Cheerleaders Association has infused her classroom with joy and enthusiasm. After 22 years of teaching ballet to young students, she learned about Dance for PD® and was thrilled to have the opportunity to create a program for the South Florida area.
The BBT4PD (Boca Ballet Theatre for Parkinson's disease) program is proud to offer 2 teachers, a live pianist, an assistant teacher, and 4-5 volunteers per class. Since 2015, BBT4PD has presented an End-of-Year performance for family, friends, and Boca Ballet Theatre patrons.
The audience has been inspired by the class participants' courage to perform, and impressed with the amount of choreography that they master. Share the Joy has become one of the highlights of Boca Ballet Theatre's Season of Dance.
Cindy teaches in Florida.
---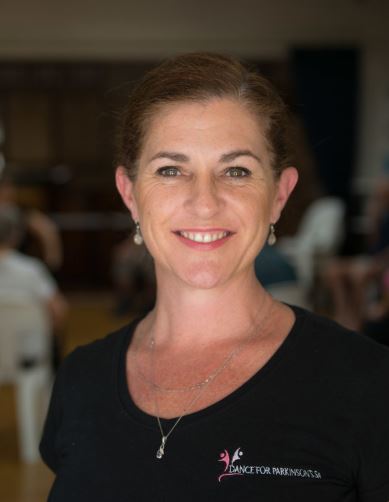 Julie Symmonds is the first Dance for PD® Certified Teacher in Africa. She started ballet classes at the age of 5 years old, and continued dancing throughout her school career. Ballet was her first love and led to Julie completing the 3 year Diploma in Dance at the University of Cape Town, graduating with a first place in Teaching Methodology and Drama. Julie then travelled overseas, experiencing Europe, the UK and Ireland before beginning her teaching career in 1997.
In October of 2015, she attended the Introductory Teacher's Course at the Mark Morris Dance Center in New York as the first South African to complete this training, and she launched her first class at the Playhouse Theatre in Somerset West in 2016. Julie was honored by a Stanley J. Wertheimer Fellowship in the same year, allowing her to continue her training process. In 2017, Carmen Davidson joined Julie and together they launched the company Dance for Parkinson's S.A Pty ( Ltd). Julie returned to New York in October 2017 to spend a month completing the Advanced Training and Certification program.
Julie is now one of a select group of practitioners worldwide who are authorized to train other dance teachers in the Dance for PD® program, and has presented training workshops in Johannesburg and Durban. She currently oversees a network of 7 classes in and around Cape Town! Since the inception, Dance for Parkinson's S.A has been featured in numerous newspapers, magazines, television and radio.
"I love teaching Dance for Parkinson's classes – every single class gives me goose bumps and giggle! We learn to laugh again and at the same time, give the mind, body and soul some much needed TLC!"
Julie teaches in Cape Town.
---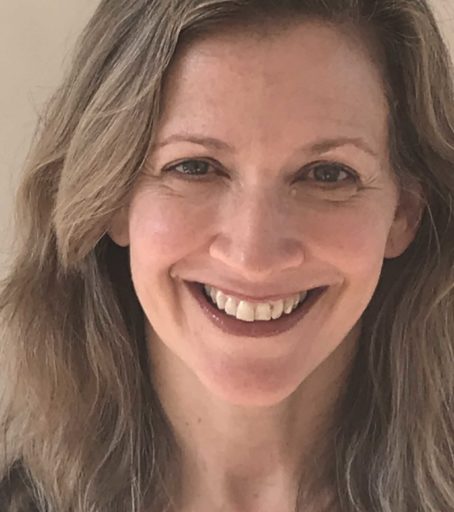 Paris Wages founded the first Dance for PD class in Victoria, Australia in 2014 while working for Elancé Adult Ballet School. She successfully started a second class in Melbourne, Australia in 2018. She co-directed and co-choreographed the short film "Stupendous: Dancing Through Parkinson's" in 2018 which made its American debut in the Frame by Frame Dance Film Festival at the Houston Ballet. She began teaching dance to adults after moving from San Francisco to Melbourne with her young family in 2012. She is now the first certified Dance for PD teacher in Victoria, inspired by a desire to give people living with neurological disorders a creative voice and a platform for artistic expression.
Ms. Wages holds a BS in Hospitality Management from California State Polytechnic University and a MFA in Dance from Florida State University. She has performed with several companies including the San Francisco Opera, LA Opera, San Diego Opera, Moving Arts Dance, LA Classical Ballet, Heidi Duckler Dance Theatre and Oakland Ballet. She has also had experience in musical theatre performing in productions of Carousel, Singin' in the Rain and My Fair Lady. As a choreographer she has worked for Solano Community College Youth Theatre, Woodminster Theatre and directed productions for her own company Quixotic Dance Technologies in the Bay Area. In addition to running two weekly Dance for PD classes Paris is certified in Group Fitness and Core Yoga teaching at the Hawthorn YMCA. She also works in an Aged Care facility teaching movement and dance to the elderly. For two consecutive years she has been a guest speaker at the Goulburn Valley Health Conference on PD presenting "The Role of Dance in Parkinson's Disease."
She is the recipient of multiple Boroondara Council grants to fund special projects that share the joy of dance and artistic expression to the greater Parkinson's community. In her spare time Paris enjoys writing dance reviews for Classic Melbourne, an online site dedicated to classical music news and reviews.
Paris teaches in Australia.
---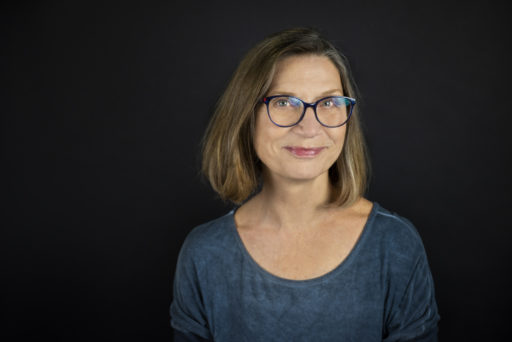 Susan Weber founded the Dance for PD® Program at Berkeley Ballet Theater in 2008, motivated both by her father's twenty-year experience with Parkinson's disease and by her long friendships with Mark Morris and founding teachers David Leventhal and John Heginbotham. The first Dance for PD® certified teaching artist in California, Susan holds M.A. and B.A. degrees in Dance from UCLA, where she began teaching as a graduate student.
Ms. Weber performed in the Lar Lubovitch Dance Company, touring extensively in North America and Europe and assisting Mr. Lubovitch in setting works at the Royal Danish Ballet, Les Grands Ballets Canadiens, and on Lynn Seymour of the Royal Ballet, among many others. More recently, she assisted Mark Morris as he created new works at San Francisco Ballet: A Garden, Later, his full-length Sylvia, and Joyride. She has also helped set his works at the Royal Ballet and English National Ballet.
Susan is a certified yoga instructor and a lifelong student of anatomy. At Berkeley Ballet Theater, Susan directs the Dance for PD® Program, leads two weekly Dance for PD® classes, teaches advanced ballet and serves as Advisor to the pre-professional Youth Company.
Susan teaches in Berkeley and San Francisco, CA.
Photo credit: Natalia Perez